Barcelona is an internationally renowned tourist destination with numerous recreational areas. Barcelona's most popular tourist attraction is the Sagrada Familia. It also has eight UNESCO World Heritage Sites. Few worth watching sites are architecture of Hospital de Sant Pau, works of Antoni Gaudi, Park Guell, Palau Guell, Casa Mila, Casa Vicens, Sagrada Familia and Casa Batlo etc.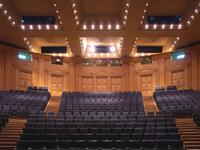 Sagrada Família
The Basilica of the Holy Family (Basílica de la Sagrada Família), also known as the Sagrada Família, is a huge unfinished Roman Catholic minor basilica in the Eixample district of Barcelona. It is the most visited tourist attraction in Barcelona. Construction has been ongoing for more than 135 years; it remains an absolute must-see place even in its unfinished state.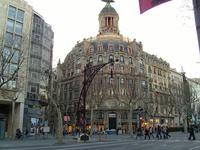 Parc Güell
Parc Güell is a privatised park system of gardens and architectural elements in Barcelona, Catalonia, Spain, on Carmel Hill. Carmel Hill is in the mountain range of Collserola. The park was built from 1900 to 1914 and was opened as a public park in 1926. In 1984, UNESCO declared it as a World Heritage Site under "Works of Antoni Gaudí". The park is open all year round.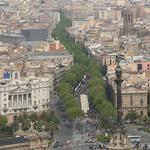 Barcelona Cathedral (Catedral de Barcelona)
Barcelona Cathedral, the major landmark of Barcelona, is located in the Gothic Quarter. It is the seat of the Archbishop of Spain. It is famous for its 14th-century cloister full of palm trees and a Gothic portico.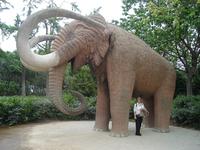 The Parc de la Ciutadella (Ciutadella Park)
The Parc de la Ciutadella is a park on the northeastern edge of Ciutat Vella, Barcelona, Catalonia, Spain. For decades this park was the city's only green space. The 70-acre (280,000m²) park includes the city zoo, the Palau del Parlament de Catalunya, a small lake, museums, the stone mammoth sculpture (a life-size homage to the great Woolly Mammoth) and a large fountain designed by Josep Fontserè.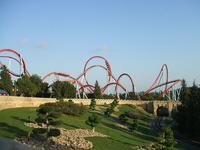 Camp Nou stadium FC Barcelona
Camp Nou is a football stadium in Barcelona, Spain, and the museum of one of the most successful football clubs globally, FC Barcelona. The stadium has a seating capacity of over 99,000. It is the largest stadium in Europe and the fourth largest association football stadium globally in capacity.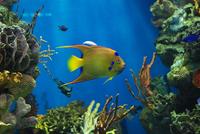 Barceloneta Beach
Barceloneta Beach is located in the traditional fishing district. It is one of Barcelona's best-loved beaches, which inevitably makes it one of the most crowded beaches in the city.
l'Aquarium de Barcelona
The marine aquarium is located in Port Vell, which is the oldest part of the Barcelona harbour. The Aquarium of Barcelona was opened to the public in 1995. It has 35 aquariums holding six million litres of seawater- home to 11,000 sea creatures representing 450 species, such as sharks, crustaceans, and invertebrates. The Barcelona Aquarium even is the biggest aquarium in Europe.
Magic Fountain Barcelona
The largest fountain of Barcelona (Font Màgica Montjuïc) was built in 1929 before the World Fair. The Barcelona magic fountain gives a spectacular dancing fountain show with music, water acrobatics, and light in the evenings. The Font Màgica Montjuïc is one of Barcelona's most popular tourist attractions.
Casa Mila & Casa Battló of Gaudì
Casa Mila and Casa Battló are two buildings designed by Gaudi. La Pedrera means 'stone quarry' and is a highlight in terms of architecture. Visit these 'casas' of Antoni Gaudí to understand what Catalan Modernism is.
Passeig de Gracia
Passeig de Gracia is a celebrated destination for its rich historical and cultural heritage. During the end of the 19th century and the beginning of the 20th century, it was the residential centre of the Catalan bourgeoisie, which is today a lively street with traditional shops, brightly lit entrances, and modern commercial galleries. Buildings like Lleo Morera mansion, de Domenech i Montaner, the Batllo house,etc. all designed by Antoni Gaudi, mirror the deep impact of the modernist movement on Passeig de Gracia.
Gothic Quarter (Barri Gotic)
Barcelona's Gothic Quarter (Barri Gotic) dates back to the Middle Ages. It has narrow winding roads, shady plazas, and beautiful architecture. The quarter is home to many trendy restaurants, bars, boutiques and La Rambla pedestrian mall.
National Theatre of Catalonia
The National Theatre of Catalonia is known for its beautiful interiors, a cosy ambience where you can just relax & have moments of leisure to enjoy the Catalonian cultural events wholeheartedly. The building is surrounded by cafes, restaurants & book stores.
PortAventura World
PortAventura World is a resort in Salou and Vila-seca, Tarragona, on the Costa Daurada in Catalonia, Spain. The resort includes a second theme park, Ferrari Land, since 2017 and also includes PortAventura Caribe Aquatic Park, five hotels, a convention centre and a RV park.